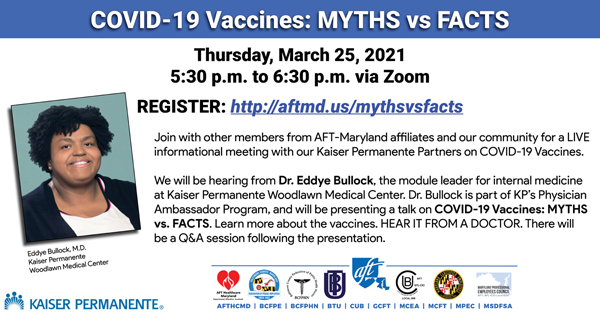 .
COVID-19 Vaccines: MYTHS vs FACTS
Thursday, March 25, 2021, 5:30 p.m. to 6:30 p.m.
Register for the Zoom webinar: aftmd.us/mythsvsfacts 
Join with other members from AFT-Maryland affiliates and our community for a LIVE informational meeting with our Kaiser Permanente Partners on COVID-19 Vaccines.
We will be hearing from Dr. Eddye Bullock, the module leader for internal medicine at Kaiser Permanente Woodlawn Medical Center. Dr. Bullock is part of KP's Physician Ambassador Program, and will be presenting a talk on COVID-19 Vaccines: MYTHS vs. FACTS. Learn more about the vaccines. HEAR IT FROM A DOCTOR.
There will be a Q&A session following the presentation. Registration is required to attend.