Candidate Biographies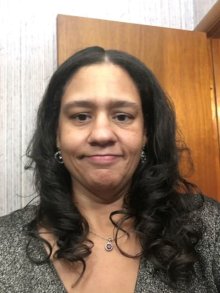 Dawn Rowe - Candidate for MCEA Treasurer
My name is Dawn Rowe and I am the current MCEA Treasurer.  I have been an active Member of MCEA for 22 years now.  I work for the Department of Juvenile Services, in Region 5 (Anne Arundel, Carroll County and Howard County) as the Resource Specialist Supervisor. I have been a dedicated State employee for 23 years.  I have been part of several committees over the years for MCEA, Nominating Committee (2012), Bylaws Committee (2010 and 2015), and Convention Committee (2013)(2014). I am currently the Area III Secretary and have held that office since 2011.  I have also been a Member at large on the MCEA Executive Board since 2015 and was the Area III Secretary from 2011 until 2020. I also held the at-large board member position from 2015 until 2021.  I am currently the Treasurer of MCEA, appointed as of October 2022.  I take my roles within MCEA seriously, as this Organization has helped many State Employees, including several of my friends.  I am currently ensuring that our members' dues are used to run this Association efficiently.  As Treasurer, I will ensure this Association is equipped for the future and continues to grow. The growth of this Organization should be our first priority.   If you want someone who will keep MCEA's finances in order, vote for me.  Thank you.
Corbin Mitchell - Candidate for MCEA Treasurer
---
Dear MCEA member,
As you are aware, nominations were held from July 1 – July 31, 2023, for all officer positions on the MCEA Executive Board. Pursuant to Art. V of the MCEA Bylaws, the following positions are uncontested and will be elected by acclamation at the October 14, 2023 MCEA Representative Assembly meeting:
President:               Marilyn Miller
Vice President:      Raymond Crosby
Secretary:              Sherry Anderson
Two nominations were received for following position:
Treasurer:              Dawn Rowe
                                Corbin Mitchell
Pursuant to the MCEA Constitution and Bylaws, a remote election will be held for this position. 
Election Date:        Friday, September 15, 2023
Time:                      7am – 7pm
How:                      You will receive an email via Election Buddy containing a link. Click this link and you will be brought to a webpage, where you will cast a secret vote.
MCEA must have your email address (non-work preferred) in order for you to vote. If you are not regularly receiving emails from MCEA, please contact info@mcea.org to update your contact information as soon as possible. You will not be able to participate in this election if we do not have your email address.