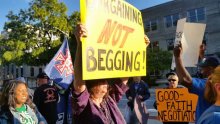 Baltimore County 911 call center employees protested a threat of major scheduling changes on Monday night outside county headquarters in Towson. The
Baltimore County Federation of Public Employees
(Local #4883) organized the rally, and members of other unions attended to show their support, as well, including 911/311 call center employees from Baltimore City, who are members of the
City Union of Baltimore
(Local #800). 
Union members are protesting a mandatory rotating shift policy. The shift change has already caused dozens of 911 call center employees to leave the department, which is now understaffed; remaining workers are left to deal with the shortage, and often required to work mandatory overtime. The administration is filling some of those spots with firefighters and police officers. 
"Police officers are being taken off the streets. Firefighters are being pulled off the street," said John Ripley, president of the Baltimore County Federation of Public Employees. "It's wrong and it's a formula for disaster."
Other supporters at the event included people from AFT-Maryland, Metro Baltimore AFL-CIO with their president, Ernie Grecco, members of IATSE, and Maryland State Delegate Cory McCray.
Share this article on Twitter: TweetShare this article on Facebook:
---
Follow AFT-Maryland on Social Media to keep up with all of the latest news!