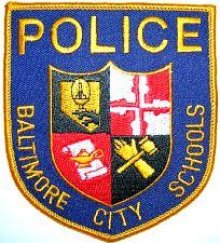 During the month of July, 2015, Baltimore City Public  Schools will be hosting a series of community conversations around Baltimore City to discuss how school police can work with schools, students, and the community to keep students safe and in school during the day.
In the 2015 Maryland Legislative Session, a bill was introduced to allow Police to carry guns in schools. The legislation didn't make it out of committee, but we anticipate that similar legislation will be introduced again next session and that this will be a major topic of discussion at these Community Conversations this month.
The Community Conversations will be held at the following locations:
(Click here for the flyer from Baltimore City Public Schools.)
Monday, July 13, 5:30-7:30 p.m.
Paul Laurence Dunbar HS, 1400 Orleans St.
Friday, July 17, 5:30-7:30 p.m.
Forest Park HS, 3701 Eldorado Ave.
Saturday, July 18, 9:00-11:00 a.m.
BCPS Board Room, 200 E. North Ave.
Monday, July 20, 5:30-7:30 p.m.
Violetville Elementary School, 1207 Pine Heights Ave.
Monday, July 27, 5:30-7:30 p.m.
Southeast Anchor Public Library, 3601 Eastern Ave.
Wednesday, July 29th (for Hispanic Families), 5:30-7:30 p.m.
Southeast Anchor Public Library, 3601 Eastern Ave.
Thursday, July 30th, 5:30-7:30 p.m.
Hamilton Public Library, 5910 Harford Rd.
Read more about Baltimore City School Police at BaltimoreCitySchools.org 
 
Share this article on Twitter: TweetShare this article on Facebook:
---
Follow AFT-Maryland on Social Media to keep up with all of the latest news!