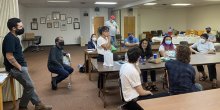 Labor solidarity and support for workers extends beyond the shores of the United States. International solidarity is a hallmark of AFT's commitment to workers' rights across the globe. AFT-Maryland and MCEA Local 1935 demonstrated that commitment by hosting a reception for labor activists touring the United States to promote workers' rights, economic justice, and fair democracy in the Philippines.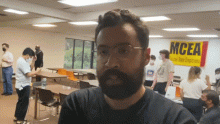 The event began with opening remarks from AFT-Maryland President Kenya Campbell who stressed the importance of worker solidarity. She laid out the state federation's commitment to struggle with working people at home and abroad and shared how eager those in attendance were to hear about the unique struggles of Filipino workers. 
Click Here to view a video from the event.
The audience heard first from Gordon Mutch from the International Coalition for Human Rights in the Philippines. He provided a brief overview of the history of the Philippines as well as the United States' involvement in the labor relations of the country. He also informed the audience of the current threats to democracy happening in the Southeastern Asian country.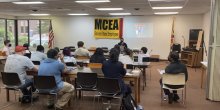 The next presentation was from Mylene Cabalona, the President of BPO Industries Employee Union in the Philippines. She painfully recounted the oppression labor organizers and union activists face in the country. She introduced the concept of "red-tagging" whereby those critical of the government or those who try to organize workers' rights that may be in opposition to the government's will are labeled as communists, terrorists, or both. The consequences for being red-tagged can range from state surveillance to assasination.
Following the event, President Campbell remarked "[this event] gave us the opportunity to learn some new knowledge and understand the struggles that are happening internationally." That awareness, along with a commitment to solidarity should lead us to join the struggle for justice for Filipino workers. 
One way to get involved is by contacting your federal legislators and asking them to support the Philippine Human Rights Act.
You can sign on to a petition supporting the legislation here.
2022-06-22